A Later Day
By Kim Sowol
Translated by David McCann

What father and mother said you know
by heart, how Raising sons or daughters,
means looking forward
to the days to come.
Just so. And clearly,
all were born of two parents.
But my friend, what does this mean?
What will be taught, hands raised,
long from now by a generation
who grew up all together and learned it?
Never mind the days to come,
but raise sons and daughters
with a true heart until you grow old.

--------

From Poet's Choice in The Washington Post Book World, where Robert Pinsky writes that Sowol, a Korean poet who died at 32 in 1934, "was a modernist influenced by Western poetry -- but a modernist who also incorporated many traditional techniques, images and forms from Korean folk poetry and folk song." This poem, Pinsky adds, "considers explicitly the relation between old ways and new generations...across the gulf between two languages and their cultures, as well as the gulf of many decades, the poem in translation has an engaging, good-humored fatalism. The severe limitations to what can be known or understood seem to be tempered by a modest reliance on the ancient, fundamental ways."

We had planned to go to the Maryland Renaissance Faire this Saturday, but the weather forecast was for a heat index of 105 followed by fierce thunderstorms, so we chickened out. Instead we had a relatively quiet morning involving exciting things like laundry, and then we went to see Hairspray. I adore the original movie with a passion, wrote a short paper on it in grad school, and had only heard the Broadway soundtrack once, so I wasn't positive that I would love the remake -- the musical seemed decent but possibly heavy-handed and it didn't have, you know, Sonny Bono or Debbie Harry or Divine. Well, I am pleased to report that I unconditionally love the remake, with the singular disappointment that there is no real John Travolta/Christopher Walken kissing. I forgive Travolta for Battlefield Earth and everything else -- he's wonderful, he dances and sings and is prettier than Divine in a dress (I really need to show my kids Grease and Grease 2 so they know where Travolta and Michelle Pfeiffer came from). Plus Jerry Stiller's in there, just in a different role, and Queen Latifah is fantastic and really quite moving singing "I Know Where I've Been." And Allison Janney is always a delight and the kids are all cute.

But really nothing can top Travolta and Walken in stereotypical Carmen/Matador costumes waxing poetic about their wonderful love life. On the way home, we realized that our kids had never seen the original movie, so we put that on while I folded the last batch of laundry. And I still love it but they're like two different animals, or at least two different generations, and like Star Trek I see no reason to choose between them when I can watch both. I think the storyline in the musical is a tighter but since the events at Tilted Acres are based partly on events at Glen Echo Amusement Park near where I live, I'm sorry to lose that aspect. Even so, you can see the Domino Sugar Factory in the new movie and John Waters has a great cameo.


One of today's thunderstorms hit just as we left the movie theater. We were surprised to see dozens of birds fighting for space on a radio broadcast antenna on top of one of the taller buildings.



I would have thought birds would seek cover or stay away from anything that could conduct electricity!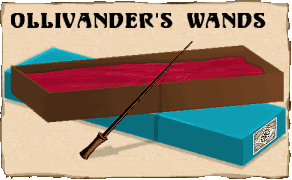 Wood type: rosewood
Length: 11½ inches
Core: Phoenix Feather



Rosewood wands are rare because these wands tend to be very picky. A Rosewood wand tends to choose one who has a deep inner peace or spirituality, which considering it excels at Love charms is probably a good thing. Rosewood wands are also good for healing magic as well. The Phoenix Feather comes from the tail feathers of a Phoenix, and is especially good with fire or defensive magic, as well as healing magic. This may be due largely to the healing properties Phoenixes have.

</center>

Thunderstorms cut off the Redskins/Ravens game and we're supposed toget more on Sunday. At least we have power! But I have no idea whatwe're doing...not the Faire, again, sadly!